April 2016 Newsletter
Millennial Leaders Alliance Find Success on Instagram
Thanks to the commitment of nearly 30 volunteers, the Millennial Leaders Alliance (MLA) celebrated a huge success in March. The @Northeast_IN Instagram account celebrated 1,000 followers and the results of the group's second successful Instagram Photo Contest.
Thank You Bob Taylor For Your Commitment to Northeast Indiana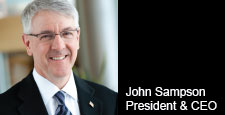 Bob Taylor has officially retired. Last week, community and business leaders around the region celebrated the contributions of volunteer community leader and now retired Do It Best President and CEO Bob Taylor. We owe Bob an incredible debt of gratitude for his selfless contributions to Northeast Indiana and the City of Fort Wayne despite the demands of life and corporate leadership.
On Our Way to Germany
As we continue to develop our new business model for our recruitment efforts, our Business Development Team has been busy building a plan from the ground up. In addition to developing our model, we are also heading to Europe. In April, we will be traveling to Germany for the Hannover Messe trade fair and multiple meetings with German companies. Four Regional Partnership team members will attend the trade fair and conduct meetings in multiple markets with company executives and local chamber contacts. We believe this approach will help us make more contacts in a shorter period of time as we build our international network of business decision makers.
Vision 2020 Update
On The Road to One Million

During 2015, we developed a world-class portfolio of quality of place projects for our 11-county region.
This year we are building the framework to put the Road to One Million plan into action. To start, the Regional Partnership is bringing together project leaders for monthly meetings in order to share updates from our interactions with the Indiana Economic Development Corporation (IEDC) and from our work in support of the Regional Development Authority (RDA). We believe that as these meetings continue, project leaders will begin to support each other as well. We are united in our aspiration to see as many projects come to fruition as possible. By working together, we can build a knowledge base of how to address challenges and maximize opportunities.
Permitting Excellence Coalition focuses on taskforce

In March, the Permitting Excellence Coalition (PEC) met for their first quarterly meeting of the year. The group worked to develop a plan to better engage existing taskforce members, a group of business leaders that regularly obtain permits. PEC also restructured the meeting schedule to give members the opportunity to share what they've been working, get the taskforce's feedback, answer questions and then build on that that feedback. To learn more about streamlining permitting, contact Amy Hesting.
Northeast Indiana Strengths Coach Network

On March 16, the Regional Partnership convened the Northeast Indiana Strengths Coach Network, a group of professionals from New Tech High Schools and industry leaders in Northeast Indiana who are all trained to be Gallup StregnthsFinder coaches. The Coaches Network gathered together to trade best practices and experiences in coaching employees, students and teachers. The network was trained and launched with the ultimate goal of connecting students and employers through coaching and mentorship with a simple, common language – strengths. If you are interested in learning more about the network or if your organization is a strengths-based organization looking for opportunities to work with talented Northeast Indiana teens, please contact Lauren Zuber to learn more.