February 2016 Newsletter
Northeast Indiana celebrates 2015 project wins
Through hard work and determination, Northeast Indiana Regional Partnership's lead generation activity during 2015 nearly matched its historical peak and led to three project "wins" in our 11-member counties.
Over the past year, the Regional Partnership issued 20 projects. The projects are a result of not only executing our business development strategy, but a direct result of Northeast Indiana's stakeholder collaboration. Here's a recap of Northeast Indiana's wins in 2015.
IPFW governance study a risk and opportunity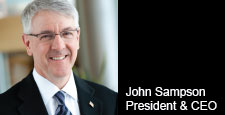 The proposed recommendations for IPFW governance offer a compelling opportunity for a dramatic deviation from our past. With the working group recommendations out of committee and ready for public discussion and consideration, now is the time to work through the details in the name of creating a new future for this campus. With the metropolitan campus designation, it is up to us as business, community and campus leaders to create our own future not constrained by an outdated and ineffective management structure.
New Directors of Business Development
The Business Development team at the Regional Partnership has seen a busy start to the year thanks to the addition of new team members Hannah Stork and Alex Knollenberg, who recently joined the Regional Partnership as directors of business development. Stork comes from Manchester University, where she served most recently as director of career services. Knollenberg is a mechanical and project engineer who relocated from Chicago, where he worked on infrastructure projects with MWH Global. The business development team is participating in an intensive orientation process to building relationships with business, community and regional leaders in all 11 counties in the region. To learn more about the new team, visit our staff profiles.
Vision 2020 Update
Road to One Million
In December 2015, the Regional Opportunities Council (ROC), the investor board for the Regional Partnership, voted to add the Road to One Million plan to the list of Vision 2020 priorities under the Quality of Life pillar. This addition will create a strong quality of place and offer increased social and cultural amenities to attract young talent and tourists, as well as provide an asset to current residents. To celebrate the Regional Cities funding, the Regional Partnership and Greater Fort Wayne Inc. hosted the Road to One Million Kick-Off Celebration and welcomed 1,000 residents to the Grand Wayne Center for a family-friendly evening of celebration.
Permitting Excellence Coalition celebrates

The Permitting Excellence Coalition (PEC) was recognized with a plaque presentation reception for their work in 2015. Many of the region's mayors, commissioners and local economic development professionals attended to celebrate. In 2016, PEC is looking to add more jurisdictions to the group. To learn more about streamlining permitting, contact Amy Hesting.
U.S. 30 Coalition's upcoming work

The executive committee for U.S. 30, which represents the seven counties directly connected to the corridor, is working on the following items in 2016: file as a 501(c)(6); establish articles of incorporation and by-laws; add additional members to the group; and hire a consultant to move the U.S. 30 corridor forward. In the meantime, individual jurisdictions will begin working on plans for their respective sections of the corridor with assistance from community partners including the Regional Partnership. To learn more about the U.S. 30 Coalition, contact Amy Hesting.
1 Million Cups Fort Wayne

The Northeast Indiana Regional Partnership is working with Start Fort Wayne and sponsors Sweetwater Sound and Utopian Coffee to support 1 Million Cups Fort Wayne, a program designed to educate, engage and connect entrepreneurs in the region. The free networking events are open to the public and held weekly at 9 a.m. every Wednesday in the Crescendo Café at Sweetwater Sound, 5501 U.S. 30, Fort Wayne.
FAFSA Completion Competition

The Northeast Indiana Regional Partnership's Big Goal Collaborative is partnering with NIPSCO to launch a regional FAFSA Completion Competition for regional high schools. The competition runs through March 10. Three winning high schools will each be given a $1,500 scholarship to award to a graduating senior. Winners will be announced mid-April.
FAFSA assistance program

Several Northeast Indiana organizations are partnering with the Regional Partnership's Big Goal Collaborative to offer free support to students and families in completing the Free Application for Federal Student Aid (FAFSA). The free FAFSA support will be offered from 4 to 7 p.m. on Feb. 16 and 23 and March 1 and 9 at the Fort Wayne Community School's Career Academy at Anthis, 1200 S. Barr St., in Fort Wayne. Programs will also be offered in DeKalb County on Thursdays from February 11 to March 3 at local public libraries in Waterloo, Butler, Garrett and Eckhart. To learn more about the FAFSA assistance program, contact Ryan Twiss.