June 2015 Newsletter
Millennial 2020 develops new leaders
The Millennial 2020 program's vision is to make Northeast Indiana the number one place in the state of Indiana for young people to work and live. Their plan is to carry this out through their mission to develop a community of future leaders in Northeast Indiana and create opportunities for action, growth, and regional pride. Over the last year, they have welcomed many new members, created new committees, and developed a new focus. The Millennial Leaders Alliance (MLA), an advisory group to the Northeast Indiana Regional Partnership comprised of regional millennials, has 20 members representing 5 counties.
Read more >>
Risk and reward in Northeast Indiana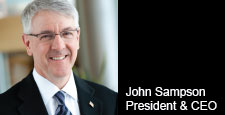 This month, risk and reward are playing out before us, even when we may not recognize it. Even when not perceived, the risk is ever present for us to embrace or avoid. Even when we choose inaction, the risk-reward equation is calculating the consequences of our decision. In Northeast Indiana, we are not about "comfortable inaction" as the former President framed it. There is too much at stake for our residents and future generations to stand on the sidelines and let others write the script of our future.
Read more >>

As a result of April's Europe sales trip, two companies visited Indiana in early May. One company is from Italy and they spent an entire week in Northeast Indiana looking to see if this location could work for their first U.S. operation. During the visit they talked with potential suppliers, looked at buildings and met with an attorney to discuss incorporation. The second company is from Germany and they came to visit a current customer. While in the state, they were able to talk with a regional stakeholder about the potential for a partnership in the near future.
Millennial 2020 Update


Millennial Photo Contest Winners Announced
The Northeast Indiana Regional Partnership, through its Millennial 2020 initiative, and Wunderkammer Company announced the winners of the #NEIpride Instagram photo contest. Northeast Indiana Millennials (roughly ages 17-29) submitted 121 photos on Instagram showcasing why they are proud to call Northeast Indiana their home.
Read more >>