March 2016 Newsletter
Skill UP Grant a win for Northeast Indiana
Gov. Mike Pence's announcement that Northeast Indiana will be receiving $1.35 million in Skill UP funding to support new and expanded educational programs in manufacturing and the skilled trades is a great win for the region.
A sense of urgency needed as we travel on the Road to One Million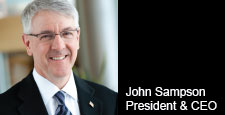 Some good news surfaced at the legislature this week in our efforts to assure full funding for the third regional city! The original Senate Bill 302 has been folded into Senate Bill 333, which is out of committee advancing funding for both Regional Cities and transportation.
You might be wondering, what's the big rush to move the Road to One Million forward? Why should we stress the importance of population growth and talent development?
Well, despite celebrating many successes over the last few years – including five years of raising personal per capita income (PCI) – we still have a long way to go to increase wages in our region.
Vision 2020 Update
Permitting Excellence Coalition adds new jurisdictions

The Permitting Excellence Coalition (PEC) added three new jurisdictions to the group including Wells County, the City of Rome City and the City of North Manchester and there is potential for one or two more additions. PEC set their priorities for 2016, which focuses on transparency, customer service, process improvement and engagement. The group will also begin tracking standardized metrics then discuss the results during each quarterly meeting. To learn more about streamlining permitting, contact Amy Hesting.
FAFSA Completion Competition

The Northeast Indiana Regional Partnership's Big Goal Collaborative is partnering with NIPSCO to launch a regional FAFSA Completion Competition for regional high schools. The competition runs through March 10. Three winning high schools will each be given a $1,500 scholarship to award to a graduating senior. Winners will be announced mid-April.
FAFSA assistance program

Several Northeast Indiana organizations are partnering with the Regional Partnership's Big Goal Collaborative to offer free support to students and families in completing the Free Application for Federal Student Aid
(FAFSA). The free FAFSA support will be offered from 4 to 7 p.m. on Feb. 16 and 23 and March 1 and 9 at the Fort Wayne Community School's Career Academy at Anthis, 1200 S. Barr St., in Fort Wayne. Programs will also be offered in DeKalb County on Thursdays from February 11 to March 3 at local public libraries in Waterloo, Butler, Garrett and Eckhart. To learn more about the FAFSA assistance program, contact Ryan Twiss.