May 2016 Newsletter
Business Contacts Made In Germany
Regional Partnership team members Alex Knollenberg, Kylee Shirey, Hannah Stork, and Alan Tio recently joined nearly 5,000 visitors from the United States at Hannover Messe, the world's leading industrial trade fair, in Germany. The event showcased the "fourth industrial revolution," which involves integration of smart technology in the world of manufacturing. The fair showcased a number of companies following this theme and illustrated the use of technology and connectivity into manufacturing processes to allow greater efficiency, flexibility, and turnaround time.
Observations From Nashville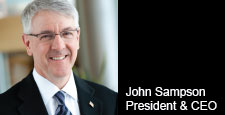 During a recent vacation for a family wedding in Nashville, John recalls the unique economy, and quality of life assets that are attracting young talent in droves. Where is Northeast Indiana on our quest to attract this young talent? John shares his thoughts in this month's CEO Perspective.
Participate In Our Outreach
On the heels of our recent trip to Germany, the business development team is anxious to complete our follow up activities and to continue planning for our next outreach trips. We have come across articles online that suggest nearly 50 percent of sales people do not follow up with prospects. Our objective is to build "best-in-class" capabilities, which includes ongoing interactions with prospect companies. We have so many great stories to share about the momentum that is building in Northeast Indiana and we will be sharing them during these business development trips. We are looking forward to trips this summer to Chicago, London, and Washington, DC. This will provide opportunities to build teams of Regional Partnership staff, and regional stakeholders to expand our reach. If you are interested in participating in our outreach, or have suggestions on individuals and organizations we should call on, contact Alan Tio.
Vision 2020 Update
RDA Approves Funding For Skyline Tower Project

The Board of the Northeast Indiana Regional Development Authority (RDA) met in April to consider a request for Regional Cities Initiative funding for the Skyline Tower Project, a 170,000 square foot urban, mixed-use project adjacent to the Ash Brokerage Project in downtown Fort Wayne. The Board voted to support the funding request of $2.8 million. The Board's recommendation now goes to the Indiana Economic Development Corporation (IEDC) for review and final approval. To read more, visit the website.
Funding For Streamlined Permitting
Establishing permitting standards across the region will create a more business-friendly climate and provide efficient support to our top industry talent. In April, the Regional Opportunities Council (ROC), the investor board of the Regional Partnership, voted to provide $30,000 to fund this Vision 2020 priority. The money will be used to leverage other grant opportunities with an overall goal of continuously improving the region's permitting processes. In addition, the Permitting Excellence Coalition (PEC) and the permitting taskforce are working on expanding the taskforce and increasing engagement. To learn more about streamlined permitting or the PEC, contact Amy Hesting.
U.S. 30 Infrastructure Improvements
In 2014, the Local Economic Development Organizations (LEDO) and the Vision 2020 Infrastructure Taskforce conducted interstate access research to find opportunities for improvements. In 2015, the Regional Partnership worked to develop the strategic plan to improve Northeast Indiana's portion of U.S. 30 and bring it up to freeway standards. This work accelerated to form the corridor-wide U.S. 30 Coalition, made up of seven counties including Allen, Whitley, Kosciusko, Starke, LaPorte, and Marshall counties. The coalition was incorporated this year, and APPIAN, Inc. was hired to guide the coalition's efforts. The board has also expanded, and new directors are being added to make sure there's a balance of public, and private interests. Each county is now tasked to work with their elected officials, and business leaders to draft county-specific plans for their portions of the corridor. The next meeting is scheduled for July. To learn more about interstate access, contact Amy Hesting.
Speed Networking With Millennials
The Millennial Leaders Alliance is hosting a Speed Networking event from 5:30 p.m.-7:30 p.m. on Tuesday, May 17 at Britton Marketing & Design Group, 6112 Constitution Dr., Fort Wayne. The networking event will allow community, and business leaders to meet with up-and-coming young talent, and build new relationships with Northeast Indiana Millennials. Regional leaders can share the story of their business, and show young talent the benefits of living and starting their career in Northeast Indiana. We have limited seats to enjoy this opportunity. If you would like to take advantage of the opportunity to connect with Millennials in Northeast Indiana, RSVP for this event today or contact Sonya Snellenberger.
Gallup StrengthsFinder Training

In an effort to spread the use of Gallup StrengthsFinder as a way to strengthen talent in Northeast Indiana, Regional Partnership staff presented a tailored workshop to the Young Leaders of Northeast Indiana's (YLNI) Leadership Institute 2016 class. As part of our efforts to integrate strengths into the work of the Big Goal Collaborative, and our own organizational development, the Regional Partnership worked with Leadership Institute organizers to provide a primer on understanding and developing participants' Gallup identified strengths. Participants learned their strengths, and participated in team building activities that created greater understanding of the strengths-based coaching. The Leadership Institute class will be able to take the skills they learned back into their workplaces to be even more effective employees, and leaders. To learn more about using Gallup StrengthsFinder in your organization, contact Lauren Zuber.