November 2015 Newsletter
Marketing initiative for talent and business attraction in full swing
What does it take to market Northeast Indiana as a top contender for business investment and talent attraction?
It takes research, strategy and measurable goals. That's why Northeast Indiana welcomed economic development and tourism marketing consultants to the region in November. Development Counsellors International (DCI), national leader in marketing places, sent three seasoned team members to Northeast Indiana for a four-day immersion tour to conduct research for the development of a talent attraction strategy and to develop storylines about Northeast Indiana to pitch to national media.
Return on investment on the Road to One Million and per capita income success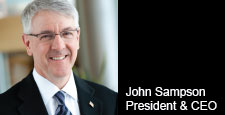 While common in golf, baseball and other sports, this perspective is about our Road to One Million plan and staying focused on the end game. Despite much anticipation around an expected announcement on December 15 by the Indiana Economic Development Corporation, the end game is not the state's $42 million. The higher goal is to produce the 2 percent annual growth in population over a sustained period of time. Population growth is the Regional Partnership's long-term objective in the Road to One Million effort.
On a quest for leads at FabTech
Featuring more than 1,200 exhibitors and 27,000 attendees, FabTech is North America's largest metal forming, fabricating, welding and finishing event. Crystal Vann Wallstrom, the Regional Partnership's business development consultant, traveled to Chicago for the event meeting with business professionals and making long-lasting connections. The Regional Partnership joined representatives from Indiana Economic Development Council (IEDC) and Indiana Municipal Power Agency in the Indiana booth and co-sponsored a dinner with site selectors, consultants and other partner organizations. Vann Wallstrom walked the 450,000 square feet of expo floor meeting companies from around the world including Italy, China, Holland, Mexico, Germany and Brazil. Overall, Vann Wallstrom cultivated more than 20 possible leads at FabTech.
The Big Goal Collaborative Update
The Kindergarten Readiness Action Team publishes report
The Kindergarten Readiness Action Team published its first annual Early Childhood Education Report for Wabash County with reports to follow for the region's other ten counties. The reports provide a baseline set of county-level indicators, such as the percentage of children enrolled in high-quality early learning programs, to measure future progress and a menu of proven strategies from which to choose. The purpose of the reports is to give local county leaders the research, statistics and investment case required to help them generate more support, particularly from local employers, for increased quality early childhood education in each county.
Read more >>
High School Action Team's FAFSA program
The High School Action Team will run the second year of its FAFSA project beginning in early 2016. The team will host four FAFSA completion events from 4 p.m. to 7 p.m. on February 16 and 23 and March 1 and 8 at the Fort Wayne Community Schools' Career Academy at Anthis, 1200 Barr St., Fort Wayne. The project has been so successful in the past, it's expanding to DeKalb County. The DeKalb County Career Success Coalition is partnering with the Big Goal Collaborative to offer FAFSA completion support events throughout DeKalb County with dates to be announced soon. Eventually, the team hopes to have support efforts operating in all 11 counties in Northeast Indiana. To learn more about the program, contact Ryan Twiss.
Read more >>