August 2015 Newsletter
How Northeast Indiana stacks up

The Northeast Indiana Regional Partnership welcomed two site selector consultants for a tour of the region's industry clusters including food processing, agriculture and manufacturing.

Brent Pollina, of Pollina Corporate Real Estate, Inc., and Lindsey Myers, of McCallum Sweeney, spent three days meeting with government and economic development leaders while reviewing the region's business development strategies.

Read more >>
Hoosiers, baseball and economic growth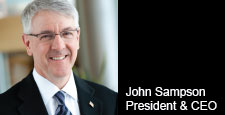 I am feeling bad for you if you weren't one of eight thousand screaming fans at the TinCaps game last evening. It was a beautiful Midwest evening. It was the kind of evening that I have come to deeply admire about the Midwest.

Read more >>
The Regional Partnership is participating in the state's four AgriNovus Councils. The councils bring together public officials, educational leaders, and business leaders to collaborate on agriculture and food processing initiatives. In July, Fred Bean attended the Agriculture Technology Council and the Value-Added Food Council. He is collaborating with AgriNovus to develop a strategic plan for business attraction to Northeast Indiana.

The last week of July had two top national site selection companies visiting Northeast Indiana. Lindsey Myers of McCallum Sweeney and Brent Pollina of Pollina Corporate Real Estate spent several days in the region visiting with a number of companies to see first-hand how we excel when it comes to making quality products and doing so in innovative ways. They met with regional economic development professionals, visited businesses, and attended a Regional Partnership Board meeting.
Vision 2020 Update


Join us for our Wabash field trip on August 14
Northeast Indiana Regional Partnership and Greater Fort Wayne Inc. are inviting community members to attend the first- ever "regional field trip." The Wabash Field Trip on August 14 is the first in a series to highlight quality of life success stories and future plans in communities across Northeast Indiana. As time goes on, the field trip event series will be used to show projects from the Road to One Million regional development plan in progress and after completion.
Field trip participants have two options: take the free shuttle from Fort Wayne to Wabash or arrange personal transportation to meet the group. The event is free, but space is limited to 25 guests on the shuttle and 25 guests arranging personal transportation. The shuttle will leave downtown Fort Wayne at 7:30 a.m. Friday, Aug. 14 and returns at 1:30 p.m. All guests must RSVP and bring the RVSP confirmation slip to the tour.
RSVP here >>
Road to One Million Premiere

Join the Northeast Indiana Regional Partnership and Greater Fort Wayne Inc at the premiere of the Road to One Million Regional Development Plan on August 25 from 5:00 p.m. - 7:00 p.m. at the Mirro Center for Research and Innovation in Fort Wayne.
The Road to One Million Regional Development Plan is the culminaiton of months of work, led by the two organizations with input from dedicated organizations and people from all over Northeast Indiana. The development plan is being submitted to the Indiana Economic Development Corporation as Northeast Indiana's proposal for the Regional Cities Initaitive.
RSVP here >>

Road to One Million Traveling Flag

Permitting Excellence Coalition encourages participation from new jurisdictions

US30 corridor in Allen, Whitley, and Kosciusko counties

Regional Partnership staff continuing work on entrepreneurial ecosystems

The Big Goal Collaborative Update
College to Career Action Team Completes Two Milestones
Two primary milestones of the College to Career Action Team (CoCAT) were to create an experiential learning database and an educational asset map. As of July 2015, the team has completed both.
Read more >>
Promotion of Ryan Twiss to Director of Regional Initiatives