January 2016 Newsletter
Look what we can accomplish as a region in just one year
In Northeast Indiana, we're empowered with grit and determination to tackle the really big tasks, and in 2015 we did just that.
As we prepare for 2016, we must take a look back at all we accomplished as a region in 2015. Here's a close look at the work achieved within Vision 2020's five pillars in the last year.
This one's for you, Northeast Indiana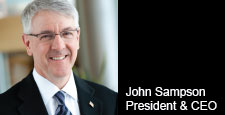 This one's for you, Northeast Indiana. Our state's commitment to provide $42 million to match our region's investment in the Road to One Million plan is all for you. We did it together.
It is now time to pause long enough to celebrate the significance of this achievement and to thank everyone who made this possible.
Insight on regional competitiveness
In December, Crystal Vann Wallstrom, the Regional Partnership's business development consultant, attended Mid-America Economic Development Council's annual 2015 Mid-America Competitiveness Conference and Site Selector Forum in Chicago. Vann Wallstrom and other attendees toured the Digital Manufacturing and Design Innovation Institute (DMDII); heard presentations from Craig Hagen, corporate director of Global Affairs at EA Sports; Ankur Gopal, CEO of Interapt; Eric Nieukirk, global economic development manager at Catepillar, Inc.; and Aaron Brickman, senior vice president of strategy and development with the Organization for International Investment. Vann Wallstrom was able to hear from 10 site selectors during a panel on Midwest competitiveness.
Key takeaways about the Midwest include:
• Indiana is at the top of the list for business-friendly climate
• Talent attraction is a big need
• Each site selector has their own preferences and methodologies
• Branding your region is more important than ever

Vision 2020 Update
Road to One Million Kick-Off Celebration
The Northeast Indiana Regional Partnership and Greater Fort Wayne are hosting the Road to One Million Kick-off Celebration, presented by Barrett McNagny. The event is free and open to the public. There will be live music from the West Central Quartet, regional door prizes from all 11 counties in Northeast Indiana, food, cash bar and a champagne toast thanks to Lake City Bank. To RSVP for the free event, visit www.neindiana.com/regionalcities.
Permitting Excellence Coalition gains momentum

Over the course of the last three months, the jurisdictions participating in the Permitting Excellence Coalition (PEC) worked on an assignment requiring them to map out the permitting process for a standard sized commercial project to share and compare results. The customer taskforce then discussed improvements on processes. The Permitting Excellence Coalition will be recognized at a reception immediately prior to the Mayors' and Commissioners' Caucus meeting on Wednesday, January 20. PEC's first planning meeting of the year will be held afterward.
Mobilizing our community for continued prosperity
Northeast Indiana awarded Regional Cities funding
Mayors' and Commissioners' Caucus adopts legislative agenda
Northeast Indiana Major Markets Strategy Project Receives $100,000