July 2015 Newsletter
Summer is here, and lead generation is heating up

Northeast Indiana Regional Partnership lead generation activity was steady at the start of 2015, but as we move into mid-summer, the possibilities are expanding. We've had a flurry of activity and projects issued to our member counties and wanted to provide some insight on the recent opportunities.
Read more >>
We are the contender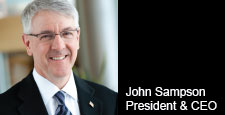 We are just about ready to press 'send' on the Northeast Indiana Regional Development Plan to submit to the Indiana Economic Development Corporation's Regional Cities Initiative. This is our region's proposal for literally millions of dollars in quality of place assets. This is history in the making. Really!

Read more >>
June's business development activity had Alan Tio, Fred Bean, and Dale Buuck all traveling to meet with prospects. Alan Tio attended the OMTEC orthopedics show in Chicago. He met with nine different companies, one of which had an active project and said they would definitely consider property in our region that had close proximity to the Warsaw area.
Fred Bean traveled to Philadelphia for the BIO International Convention. He attended numerous seminars on the role of BIO Life Sciences in the agriculture and food process industries and had appointments with several executives of companies in this arena. While there, he also met with the president of our project Grow and continued to work on the potential of them opening an operation in Northeast Indiana.
Dale Buuck traveled to Florida to meet with the principals of our project Melinda to help them understand how their business can succeed in Northeast Indiana. He also met with two food processing companies who are ready to expand from the Southeast market to the Midwest.
The Big Goal Collaborative Update
DeKalb, Huntington to benefit from early learning grants
Two Northeast Indiana early childhood education programs have been awarded Early Education Matching Grants to serve additional four-year-olds whose families live below the federal poverty level. The grant will allow DeKalb County Central United School District to provide a high quality pre-kindergarten experience for 72 students.
Read more >>
Big Goal participants contribute to family engagement in early learning
Arts United has launched a broad based survey regarding Quality of Life in Northeast Indiana. Arts United hopes to receive input from a wide range of people to understand how local amenities help connect, attract and retain people in our region. This information is critical, particularly as this region continues its focus on the Regional Cities Initiative. Your input on the role of arts, culture, social offerings and community amenities will be invaluable as community leaders consider how to grow and develop our region's quality of life.

Please click here to take the survey and share your ideas!