#GenerationGap?
#GenerationGap?
Millennials, raised with social media and 'helicopter parenting,' have been called self-absorbed, but some of their aspirations are decidely old school
Posted: Friday, May 24, 2013 12:00 am | Updated: 2:34 pm, Sun May 26, 2013.
By Rick Farrant
rfarrant@fwbusiness.com
Millennial event
What: Millennial 2020 Spark Tank, where millennials will share community project ideas and the top two ideas will each receive $500 in seed money
Where: Huntington University, Habecker Dining Commons
When: 9:30 a.m. to 3 p.m. May 31
Admission: free, lunch provided
Registration: online at www.millennial2020.com/spark-tank/spark-tank-registration
Questions: Call Jordan McArdle at (260) 469-3465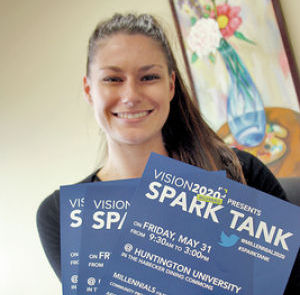 Millennial 2020 Coordinator Jordan McArdle says businesses shouldn't rely solely on social media to engage young people.
For two days earlier this month, Jordan McArdle set up shop at a picnic table on the Huntington University campus to generate interest for the third Millennial 2020 Spark Tank.
She handed out fliers and Popsicles and engaged students in conversation.
Her approach hardly typified the sometimes fast-paced, self-aggrandizing high-tech interactions of social media and served perhaps as one argument against stereotypes foisted upon millennials: that they can only be reached through social media or that they're a coddled generation of entitled narcissists who expect quick and frequent recognition for their efforts, even if they haven't earned it.
Those sorts of characterizations are harshly over-generalized, the 21-year-old McArdle said, and it may be that older and younger generations have more in common than some might think. Regarding social media alone, she said, employers and other community leaders would be wise not to fall into the trap of thinking mediums such as Twitter and Facebook are the end-all in communicating with young people.
"I'm more of a think-out-of-the-box kind of person, and I feel like (social media) was for a while out-of-the-box for companies," said McArdle, coordinator of the Millennial 2020 initiative for the Northeast Indiana Regional Partnership. "But now I feel like that's everyone's go-to. You know, I'll just tweet and we'll have followers.
"It's like fashion trends. They go back and forth, and I think maybe we're going back to old school."
So who are these millennials, these young people born to baby boomers roughly between 1980 and 2000? A Time magazine cover story this month titled "The Me Me Me Generation" cited national data suggesting millennials are, among other things, prone to narcissistic personality disorder and obsessed with their own greatness.
A host of local and national observers, underscoring that many generations of young people have been saddled with less-than-desirable portrayals, say there nevertheless is some truth to the stereotypes of millennials.
Tru Pettigrew, founder of Cary, N.C., consulting company Tru Access, which works with companies to bridge cultural and generational gaps between millennials and other generations, agrees with McArdle that there might be some over-generalizations, "but the flip side is that stereotypes aren't born out of nowhere. There is some validity to these stereotypes."
How millennials came to acquire labels suggesting attention-craving self-centeredness is another matter open to conjecture, including that millennials received participation trophies for just showing up or that their parents were over-indulgent.
But one of the outcomes of those factors, most agree, is that millennials do seek frequent, quick feedback and acknowledgement — a trait McArdle doesn't dispute.
Lesa Rae Vartanian, associate professor of psychology at Indiana University-Purdue University Fort Wayne, said she believes a preponderance of so-called "helicopter parenting" — hovering over children and providing constant feedback and guidance — has "changed the expectations for response time for when you get feedback."
It is a parenting style that Vartanian decries because, she said, it also "forecloses important learning opportunities for people. And that includes the very harsh "F" word — failure. There are times when an experience gone poorly can be one of the most powerful experiences in development."
Couple helicopter-parenting with a perceived extension of childhood and the problem is exacerbated, suggested David Mullins, associate professor of sociology at the University of Saint Francis. He noted that the concept of adult education is considered to begin at age 26 or 27.
"At 21, people still think of their kids as kids," Mullins said. "And 50 years ago, that wasn't the case. Childhood is being extended and parents are so much more involved in a direct way."
Parents are assisted in having frequent contact with their children, especially after they've left the nest, through social media — a medium that carries the dual outcome of helping foster self-absorbing behavior among millennials.
An online survey conducted by Vartanian of nearly 1,000 undergraduate students ages 18 to 23 suggested that heavy use of social media — and the associated frequent posting of "selfie" photos and often inconsequential daily routines — makes it easier for young people to display nonpathological narcissistic tendencies.
"Social media is making it easier," she said, "and social media is probably feeding it as well. I see it as facilitating and maybe exacerbating tendencies that probably have always existed within a population of the same age range."
At the very least, said Pettigrew, social media magnifies the ability of young people to showcase narcissism.
It also, he said, contributes to millennials' expectation that they should receive recognition relatively quickly: "You have access to everything so quickly. It's hard to understand why I can't have that promotion quickly. It's the instant-gratification mindset."
Not everything is negative about millennials — and millennials will be the first to tell you that.
A question on a recent survey taken by members of NEIRP's Millennial Leaders Alliance asked what stereotypes fit or didn't fit them. Most of the 15- to 25-year-old members rebuked pejorative stereotypes and described themselves as loyal, responsible, accountable and professional. One millennial cited a good work ethic and added: "The world owes me nothing."
Indeed, millennials can offer a lot. They are, of course, generally technologically savvy. McArdle and others say they also possess an entrepreneurial spirit. Moreover, they can multitask like nobody's business and there isn't a thing they don't think they can do.
"I think they can multitask better than anyone I've seen in my life," said Terry Wiedmer, a Ball State University associate professor of educational studies who has observed and researched generational differences. "They're talking, they're texting, they're doing everything simultaneously. I'm not sure they have the ability to sort the good from the bad, but they're wonderful multitaskers.
"And they really have an I-can-do-anything attitude," she said. "Just help (them) along the way. They need to know when to turn left and when to turn right. Sort of step by step. But they really see no limits. None."
Kerri Przemielewski is the mayor's liaison to Fort Wayne's Mayor's Youth Engagement Council, which volunteers at community events and plans a variety of activities, including the upcoming "Fort Wayne's Almost Famous" teen talent concert at 7 p.m. May 25 at One Summit Square downtown.
Przemielewski said her experience with high-schoolers on the council is that they are not self-centered — that they "not only care about what's good for them, they care about the community issues going on in Fort Wayne."
"Some people think (millennials) just want to text and play games. I see them tackling major issues that adults focus on."
Millennials, Pettigrew said, also believe in giving back.
"There is," he said, "a strong give-back component where the millennials want to make money but make a difference at the same time. Before, I think there was a mindset that you had to do one or the other."
The mere existence of the engagement council and the millennial alliance reinforces the notion that millennials are interested in pursuing things that make a difference and points to another characteristic of millennials: working collaboratively toward goals.
The challenge for business and community leaders, observers say, is to figure out how to tap into, and at times adjust to, the traits of millennials to create productive working relationships.
"It is in our differences that we are able to innovate," Pettigrew said. "By looking at things with a different perspective. By taking a different approach."
Pettigrew said business leaders need to take into account not only generational differences but cultural considerations.
"This generation embraces diversity much more than generations past," he said. "Their social circle is not exclusive to their race or ethnicity. They don't want their race or ethnicity to be singled out."
Meanwhile, some institutions are developing hybrid learning environments that appeal to some millennials' desire to get out of the classroom, off the Internet and into meaningful off-campus, face-to-face group learning activities.
Mullins said Saint Francis has developed such an approach in some cases, and he said the feedback the students receive doesn't always have to come from the instructor. Feedback is also valued among millennials when it comes from their peers.
Above all, he said, they "want feedback that's personal, not just something that's written online."
True to millennials' entrepreneurial spirit, McArdle said the Millennial Leaders Alliance is tackling generational gaps in understanding head-on. It conducted a millennial-style speed networking session in January, at which millennials and older business leaders explored their differences and commonalities. In April, a workshop was held to help millennials learn how to work with leaders from different generations.
McArdle, a junior marketing major at IPFW, acknowledged that she possesses a few traits of the typical millennial.
She has posted the occasional "selfie" picture on Twitter, because "maybe I just did my hair and makeup that day and I just wanted to document it."
And she likes frequent feedback simply because she wants to be sure her work is meeting expectations, not because she is insecure.
But she does not use her Facebook page; she believes face-to-face contact is more meaningful than social-media interaction. She, along with other millennials, understands that sustained hard work is required for success, and she's certain millennials want to connect with older generations.
"You can't Google experience," McArdle said, borrowing a line from one of the millennial alliance members. "We want to learn from you guys. I think we can learn as much as we can on the Internet, but it's not nearly enough."