Learning Link hosts meeting with the Big Goal Collaborative
News Coverage:
Learning Link hosts meeting with the Big Goal Collaborative
Posted: Monday, July 1, 2013 12:00 am | Updated: 7:23 am, Mon Jul 1, 2013.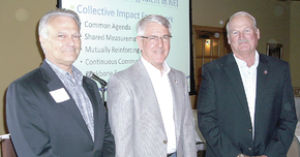 Ken McCrory, director of the DeKalb County Economic Development Partnership, John Sampson, president and CEO of the Northeast Indiana Regional Partnership, and Jim Miller, president of Miller Family Farms, discuss increasing education levels for a skilled workforce at a June 18 meeting for community leaders to learn about the Big Goal.
AUBURN — Fifty local community leaders attended a meeting June 18 to learn about the Big Goal Collaborative, a 10-county northeast Indiana effort aimed at increasing the number of residents with work skills certificates, two-year, four-year and advanced degrees to 60 percent by 2025.
The meeting at Bridgewater Golf Club was hosted by Learning Link, an education initiative of Community Foundation DeKalb County. Speakers included John Sampson, president and CEO of Northeast Indiana Regional Partnership, Katy Silliman, vice president of Regional Initiatives, and Ryan Twiss, director of the Big Goal Collaborative.
To put the "big goal" in context, John Sampson explained that northeast Indiana's decline in per capita income, or the amount of money a person earns annually, has been the driving force for the regional effort.
"Today in northeast Indiana, our annual personal income is only 79 percent of the U.S. per capita income," Sampson said. Sampson encouraged local leaders to continue the work they're doing through Learning Link, stating, "By 2018, 60 percent of U.S. jobs are expected to require some post-secondary learning. It's not necessarily about the two- and four-year degrees; it's about having a skilled workforce."
Out of this concern over declining per capita income came Vision 2020, a five-pronged, 10-county economic development effort. Katy Silliman, who oversees Vision 2020, said, "The clearest path to prosperity and quality of life is education. That's why one of the most important components of Vision 2020 is developing 21st century talent."
Silliman described the work of the Big Goal Collaborative as difficult to execute, but highly desirable. She added, "We cannot be successful with the Big Goal Collaborative without Learning Link."
Ryan Twiss, Big Goal Collaborative director, shared that he's working with stakeholders representing business, early childhood learning, school systems, colleges and universities, adult workforce and economic development, foundations, nonprofit organizations and government. Recognizing the need to increase the education levels of northeast Indiana residents, he said, "These leaders are creating a cradle to career infrastructure to improve career outcomes for children and adults in northeast Indiana." Addressing kindergarten-to-12th-grade educators in the room, Twiss explained, "Our job is to improve the community landscape in which our schools operate."
Twiss pointed out that not everyone needs a four-year college degree, saying, "Our biggest need might be for workers with two-year associate degrees and work skills certificates that have value." Currently, 35 percent of the northeast Indiana residents have two-year, four-year and advanced degrees. In DeKalb County, 27 percent of residents have those degrees.
Learning Link has been working to improve the level of educational attainment countywide since 2009 by providing a platform upon which community members can work together through continuous learning to improve the quality of life for all.
"The meeting gave DeKalb County leaders the opportunity to better understand the importance of learning beyond high school, how their work fits into the region's efforts, and the significance of Learning Link in DeKalb County," said Jeff Burns, chairman of Learning Link's Steering Committee.